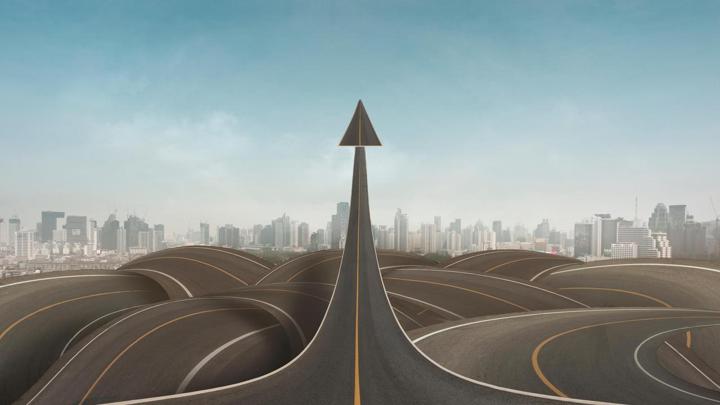 (See the Announcement at the end.)
Have you ever wondered how some entrepreneurs are able to 10X their businesses going from $0 to $1 million or $500,000 to $5 million in just a few months?  
Maybe, you thought growth like that was only available for technology companies.  If you're not an entrepreneur or business owner, you might not have given it any thought at all.  
I'm a curious person. I see tremendous, obscene amounts of wealth created quickly; I want to know what the h-ll is going on. 
Facebook is one of the most valuable companies in the world. It's 15 years old. Google's market capitalization is higher than the entire airline industry. Why? 
Those are the massive players. But there are many companies in smaller markets where a founder will start a company and make $10 million in 2 or 3 years.  How? 
Like some of you, I have had ALL the thoughts. Those mentioned above and many more, including "why didn't I think of that"? 
Then, I finally put all the pieces together.  
In Use Design Thinking to Get Customers to Buy More, I talked about how some entrepreneurs use business model design to innovate through a process called customer discovery and validation.  
It's how entrepreneurs who put in tons of work make millions and billions of dollars. 
It's not easy. But it's worth it. 
Here are three questions from the customer discovery process to help you restart your small business in the post-quarantine era. 
What expertise do you have?  
Customers buy outcomes. It's the Janet Jackson principle. What have you done for me lately? Meditate on your expertise and how you can use that expertise to solve a painful problem that your target customers are experiencing right now.  
Alternatively, you can try to identify a problem that your target customer will have soon. But be careful. When focusing on a future challenge, you introduce risk.
Assess the probability that the pain is coming and its severity. You may be able to sell the customer on insurance against the illness or a profitable remedy once the pain arrives. 
In value proposition design, we focus on the jobs that a customer is attempting to get done to identify painful problems. That's where the next question helps. 
What group of customers do you know well? 
When you know a target customer very well, it's helpful for two reasons.  
First, you're able to identify and anticipate problems that cause or will soon cause your target customer pain.   So, there's an opportunity to create a solution.  
Alternatively, you can use a day in the life questionnaire to gain a deeper understanding of your target customer.
Use industry contacts to make introductions so you can interview your target customers. There's a lot of uncertainty right now. People are hurting, and most are looking for ways to help others. Take advantage of these opportunities.   
Second, you learn to speak the customer's language. That's unbelievably important. Messaging is a critical ingredient in the secret sauce.  When you can use the customer's language to describe problems, pain, or frustrations, that's very powerful.
Are there any trends that are creating an immediate sense of urgency where you are an expert or where trends are impacting a customer group that you know well?
My friend Waleed knows how to hustle. Waleed reached out to me a few years ago on LinkedIn through our Yale connection. He has given me advice. He has stayed in contact, and he has been an encourager on my journey. Waleed is the Head of Products at our DevOps partner.   
If you choose to work with us, you also get our network of ecosystem partners.  
Waleed is a good friend, and he knows what it takes to build a business in Silicon Alley. (That's NYC's equivalent of Silicon Valley.)
See Waleed's LinkedIn Profile Title below.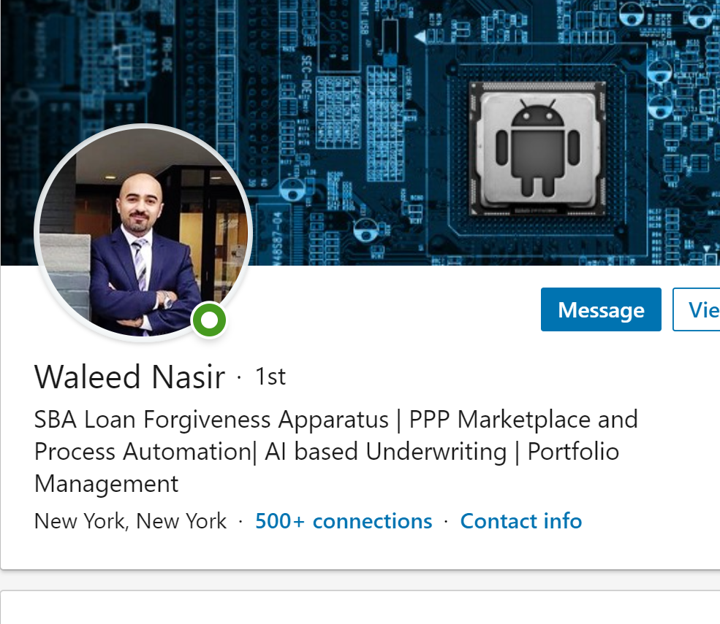 couple of weeks ago, I noticed that Waleed had changed his profile title. I don't even remember what it used to say. Guess what? It doesn't matter. 
Today, Waleed and his team, together with IBM, have created this SBA Loan Forgiveness Apparatus.  
That's agility. 
Waleed has lots of experience in the financial services and FINTECH industry. He and his team identified an immediate problem facing financial institutions in the administration of the CARES ACT, and they began developing an innovative solution. 
See below.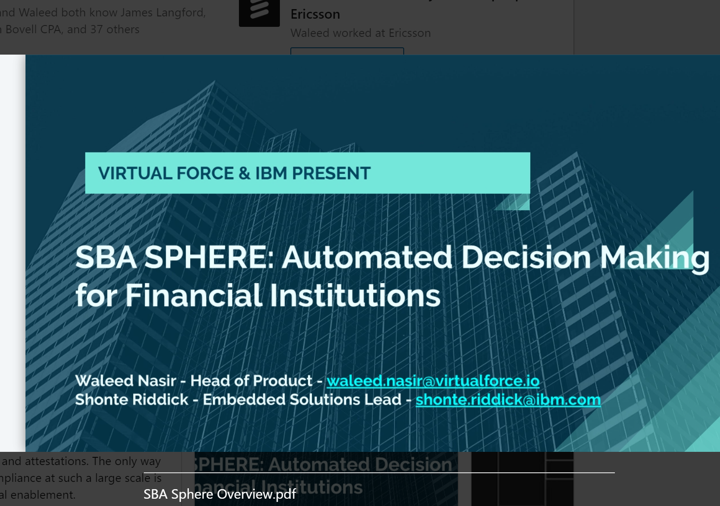 As you relaunch your business, you need to get embedded into a network of innovators. 
Excellent listening, effective collaboration, and a network of like-minded innovators all facilitate agility. 
Now, use these questions to help you get it!  
ANNOUNCEMENT
We invite any small business CEOS that are curious about how to use business model design and digital technologies to accelerate their post-pandemic growth to participate in a market study. If that is you, please fill out this form.
There is no obligation. The market study will consist of a 1/2 hour conversation with me, where I ask some questions.   
You will receive a copy of the report for your participation as well as a future discount on our services. 
If you think that you may be interested in 1-on-1 consulting, contact me immediately by completing the above form.
I have slots for only two more CEOs. The slots are for CEOs interested in transforming their business, using digital technologies, and hypergrowth business development strategies.
Thanks!