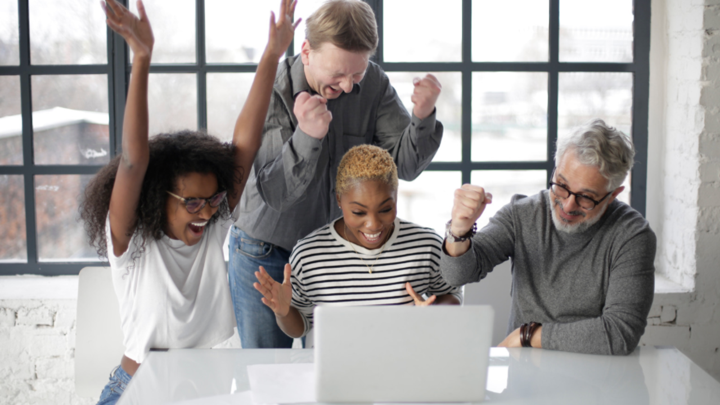 This article will explain how I went from 265 regular newsletter readers to an audience of over 12,000,000 million using LinkedIn in 120 days. 
I hired a growth marketing firm for $5K to help me grow my business. They recommended that I start an email newsletter. I had read Russell Brunson's DotCom Secrets, which suggested that you build your email list to have traffic that you own.
Using their strategy, I was able to get approximately 2800 people to join my newsletter with approximately 300 regular newsletter readers. Over time people lost interest, and that number dwindled to about 265. I got very little website traffic. 
Like many people who are new to email marketing, I struggled to add more email subscribers. It is challenging to get attention to email marketing campaigns for reasons unrelated to your message's content.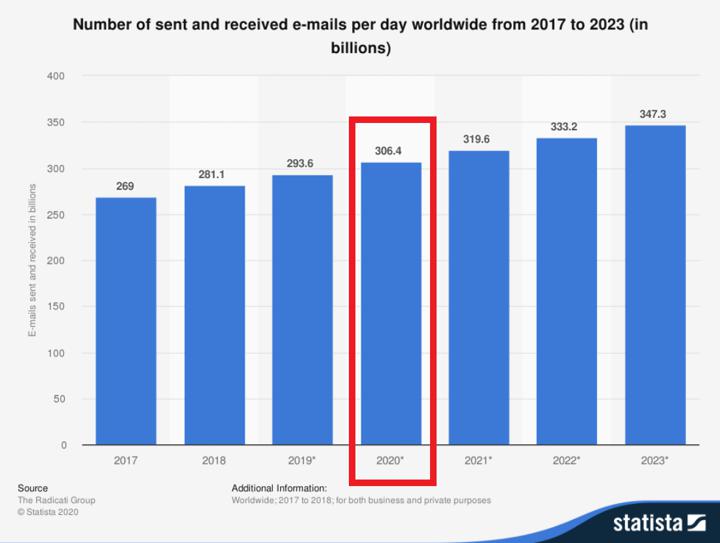 There are hundreds of millions of emails sent every day. The graphic above provided by Statista, a leading platform that aggregates market and consumer data, shows that the number of emails sent and received per day is projected to reach 306.4 billion worldwide by this year and is expected to continue to increase. We calculated that to be an average of 74 emails sent and received for every man, woman, and child on the planet. People are overwhelmed with email. Even when you send an email to someone you know, they're generally looking for the emails they need to get their jobs done. The only way that you can stand out is with a creative headline. That's it.
The response rate for email marketing campaigns has dropped to an abysmal 2.1 percent. According to Hubspot, a leading marketing automation firm, the response rate to emails dropped to 2.1 percent in April of this year. That's a 98% failure rate. Earlier this year, I conducted some market research to understand B2B sales better. During my numerous interviews, I learned that the two most important factors for the sales pipeline are access to your target customer and conversations. For the last 25 years, people have been using emails to help start these conversations. 
When email replaced regular mail to become a preferred communication method, marketers saw an opportunity "to interrupt" people while they were in their inbox, attracting attention with clever headlines. When the target opened their email, they found an amazing, irresistible offer. 
After 25 years, emails simply don't work for a sophisticated buyer. The best evidence is the 98% failure rate. 
This spring, I interviewed a successful salesman in his mid-twenties. He sold technology enterprise technology equipment, approximately $3 million annually. I could see the view from his high-rise one-bedroom apartment that he rents in Jersey City, New Jersey, for $3,000 per month. He told me, "If I get 5 out of 100 emails opened in a week, I've had a great week. ...My biggest issue is getting access. If I can get to a conversation, that's all I need."   
Most salespeople would agree. But, I found that statistic shocking. How does a 95% failure rate pass for success? 
I wasted time attempting to build an email list. Social media works much faster. I read  Social Selling - Techniques to Influence Buyers and Changemakers, written by Tim Hughes, to get started with social selling. Social selling is referred to as modern selling, virtual selling, and digital selling. The monikers all refer to the same things, using LinkedIn and other social media platforms to sell. I used Tim's book to help me meet people for market research for over a year. Without much of a plan, I posted content based on other bits and information that I found on the Internet. 
Using strategies that I learned in Tim's book, I connected with Tim on LinkedIn and Twitter. Today, Tim and I are partners. In our first meeting, Tim said to me, "Lenwood, you're good at social media. Better than 95% of the people out there. But, your personality doesn't come through in your profile. You're not how your profile comes across at all." 
I thought my profile was fantastic. I had put a lot of hours into it. I felt that it represented who I am well. 
So, I asked Tim for a few free tips to make my profile better. I experienced immediate results. Even though I had read his book, I didn't know my elbow from my ass. I spent 90 days training in the DLA Ignite social selling methodology, and I experienced more growth during that period than I experienced over the previous 24 months.
Because I didn't know whether I should use email marketing or social selling, I had wasted 12 months and $10K trying to grow my business during 2019.
I started DLA Ignite's social selling methodology in mid-July 2020; here's what has happened for me over the last 120 days: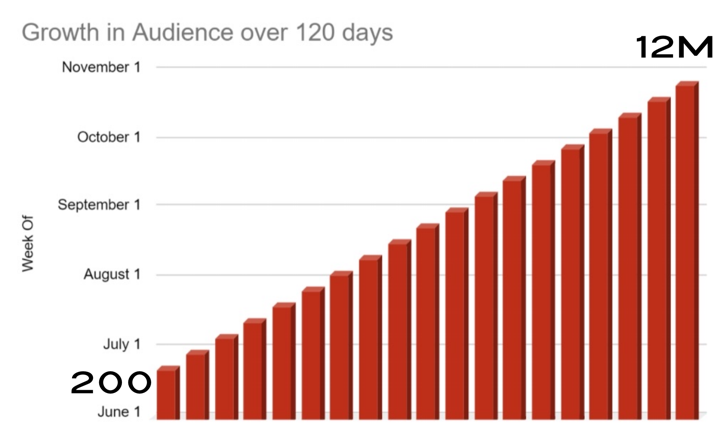 I increased my audience from 265 regular readers to over 12,000,000 million people using LinkedIn. In traditional email marketing, your audience is the number of email subscribers that you have. On LinkedIn, your network determines your audience size, which is another way to say the number of people that you can reach with your content. Before I started using DLA Ignite's process, my LinkedIn audience had been the same size for over a year. 
Who do you want in your network?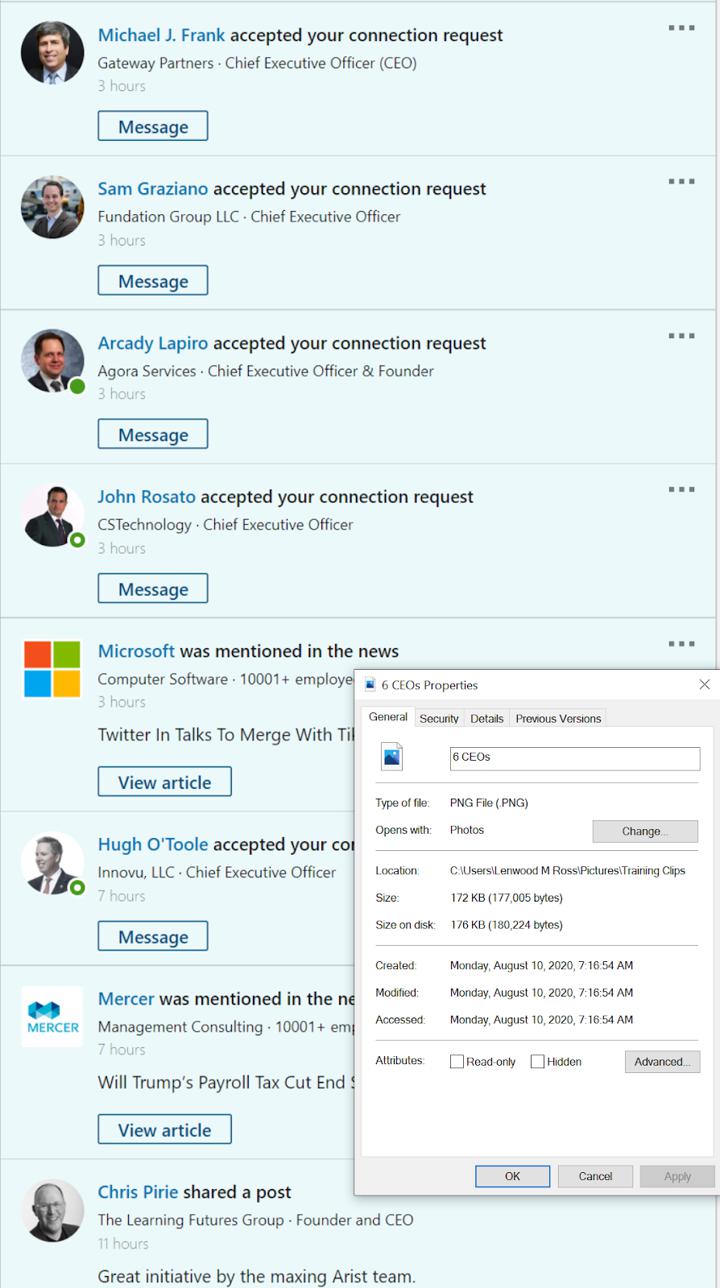 I started seeing results in less than 30 days. I call this screenshot "6 CEOs" because 6 CEOs accepted connection requests from me one right after the other in just a few hours. I target a lot of CEOs and senior-level decision-makers. I wasn't adding any new email subscribers at any level using traditional email marketing. I never imagined that I could get access to high-level decision-makers this quickly, so I took this screenshot as proof. I added the metadata inset to show the date that grabbed this screenshot. Your target may be different. You may want to target general counsels, sales executives, or loan officers. Who your target is doesn't matter when you know what steps to take and the right order to take them. 
Here's another crazy statistic.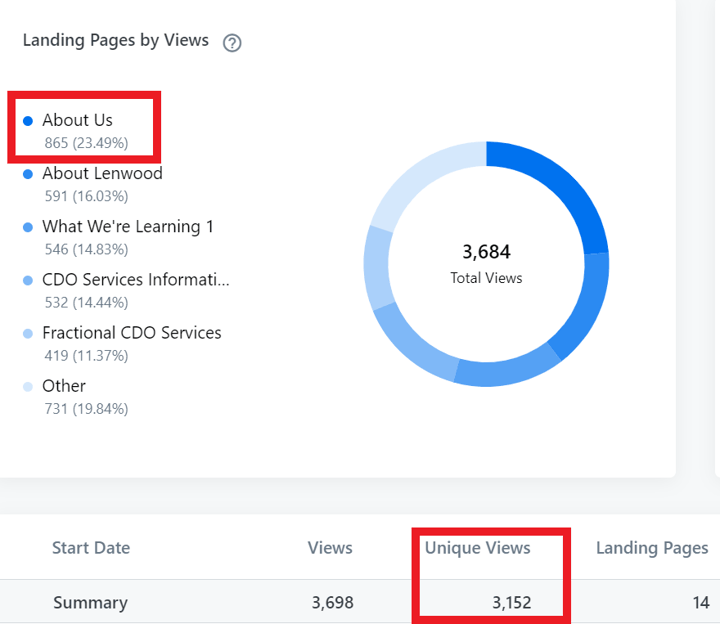 I went from 0 page views to 3,152 unique page views on my website in 120 days.  I took this screenshot from the analytics page on Kajabi, my website host. If you notice, the page that is most viewed is the "About Us" page. Because of my activities on LinkedIn, people want to know more about me. Don't underestimate the importance of people wanting to know you.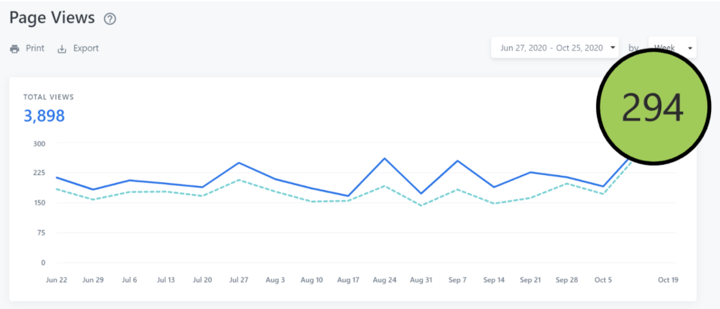 My website's unique page views went from 158 per week in the first week to 294 two weeks ago. That is a 2x increase over the previous 120 days. The blue line on top shows total page views, and the green line shows unique page views. Unique page views represent a total of the page views generated by a user during the same session. As I continue the DLA Ignite virtual selling process, these numbers will continue to grow. As I hire salespeople next year, their activities will drive even more traffic. Team members working together on LinkedIn amplify results (i.e., two working together is better than one and so forth).
Lenwood's 10 Minute Digital Transformation Playbook Post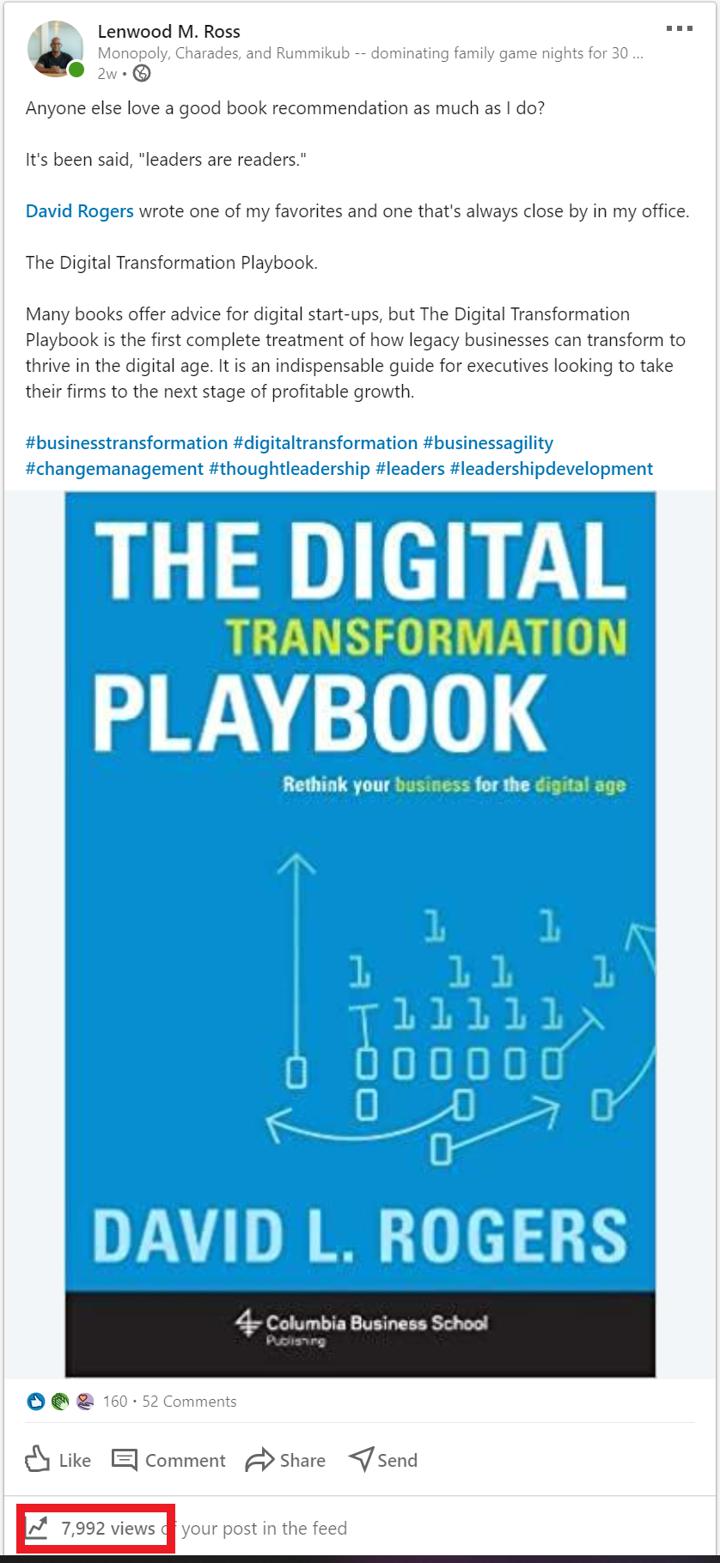 This LinkedIn post took 10 minutes to create and generated nearly 8,000 views. It triggered a total of 210 engagements (i.e., 160 "likes" plus 52 "comments") and five shares. Remember, my newsletter's total distribution was less than 38% of the people who actually viewed this post. In other words, the views achieved on this post are well more than 250% of my entire newsletter distribution and more than 30X my average number of readers.
Let's dive deeper into the stats. 
Lenwood's 10 Minute Digital Transformation Playbook Post Statistics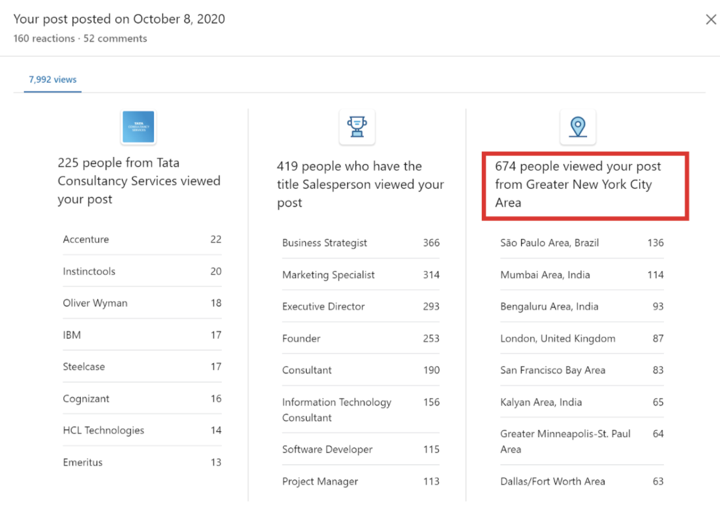 As your network gets stronger, your posts generate more engagement with your target audience. I posted this three weeks ago. I am targeting B2B companies in the NYC metro area. You can see that I had 674 views from the Greater New York City area. That's more than 2x the number of my regular newsletter readers. 
You can see that my fame is growing globally. I had 87 views in the United Kingdom, where many of my partners reside. My following in India and Brazil is also growing. You can see that I had 272 and 136 views in those locations, respectively. Silicon Valley is also looking at my content, with 87 views from there.  
Let's look at the positions these people hold.
Lenwood's Target Audience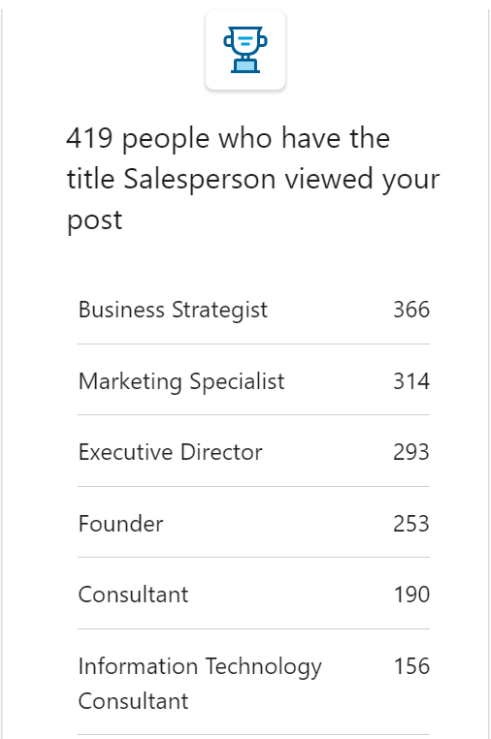 My target audience is seeing my content. I got 1,677 views or 21% from my target audience. That's 6X my average number of newsletter readers. When people are familiar with you, it helps to facilitate conversations that lead to sales and partnerships. The new connections that I made from this post strengthen my network with crucial target audience members. As I use the DLA Ignite virtual selling process, some of these engagements will convert to deals. 
Attracting Influencers: Prof. David Rogers

You can connect with influencers at any level using LinkedIn. I am building my reputation as a digital transformation expert. Prof. Rogers joined my network after we had an extended conversation in front of thousands of digital transformation leaders on LinkedIn. He is the author of the book that I posted about, and he taught the course that I took through the Emeritus Institute of Management. 
Do you think my fame in digital transformation is growing?
People who had never heard of me now know who I am. Many connected with me because of this post and my LinkedIn profile. As I continue to build my library of intellectual property on LinkedIn, my credibility and expertise grow. My activities keep me top of mind for opportunities. Building relationships creates an environment within which I can have...