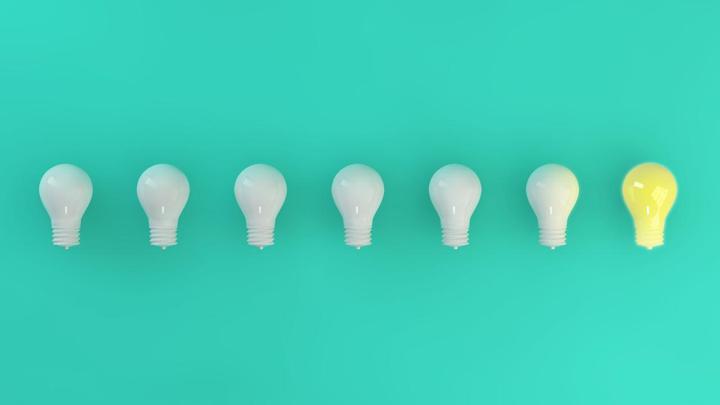 Life presents challenges to us all.
We are moved to act based on our experience, the circumstances, and sometimes, advice from others.
As business owners, CEOs, and executives, our teams, organizations, and family members all depend on us to lead. The consequences of our decisions are far-reaching.
The digital era is presenting tremendous opportunities and perilous threats.
The wins are bigger (e.g., Facebook, Netflix) and so are the losses (e.g., MySpace, Blockbuster). Companies don't just lose market share. They go out of business.
Yet despite what we know about the opportunities and threats of digital, many executives are still choosing not to act.
Have you ever needed to act but for whatever reason you didn't? How did you feel? Do you remember the consequences?
Research shows that 87% of executives know that digital disruption will affect their industry. Yet, only 44% say their company is doing enough. That's a staggering gap.
In the Technology Fallacy – How People Are the Real Key to Digital Transformation, the authors argue that there are several reasons that executives are failing to act in the face of bankruptcy producing digital disruption.
C-level and board-level executives tend to report far more optimistic views of the company on important issues than executives ranked lower in their company.
Executives may not understand enough about technology to make the changes or to understand the urgency.
Board members and investors may care more about short-term profits than the long-term viability of the company.
Many leaders may be counting down the years to retirement, and thus they don't have the energy or the interest to engage in the type of changes necessary to adapt the company for a future in which they will not participate.
Companies are trying to balance too many competing priorities.
It's difficult to keep the current business running while also preparing it for a digital future.
The central thesis of their work is that the real obstacle to digital transformation has little to do with technology. Rather, the limits of individuals within firms and how firms traditionally operate are the greatest constraints. Both individuals and organizations must change to meet the challenges of the new environment. Get the book here.
But why? Why is there such a compelling need for change?
In a word, innovation.
Zhang Ruimin, CEO and Chairman of the Board of Directors, Haier Group, which is now the world's largest appliance business has said "the biggest risk facing organizations is to focus on their product, meaning if they were not focusing on iteration, if they were not thinking about the broader ecosystem of customer experience, they were going to be left behind...
In the future, single stand-alone products are no longer valuable. What's more valuable is a user-scenario, where all appliances are connected to each other. What users want is the best user experience, which requires the connection of many products. It's a shift from mass productions to mass customization." How Management Is Being Transformed – Drucker Forum Insights
This shift to user experience and mass customization reflects a dramatic shift in value creation.
In most instances, the collaboration required to create meaningful value will extend beyond the firm to an ecosystem of firms partnering to create a specific user experience.
This transformation in value creation puts tremendous pressure on how firms operate; and consequently, how individuals work.
Embracing Transformative Change
Ten years ago, I made the most important decision of my life.
I voluntarily left my career as a corporate attorney. I had no prospects. No plan. I was certain about only two things:
I could not continue for another 25 or 30 years in my legal career.
I had more to offer.
Looking back on my decision today, my approach was radical. I do not recommend it. That being said, my experience has qualified me to share my insights.
With no passion for my career (no way to go back), I was compelled to find a way forward – a place of opportunity. 
On my journey forward, I encountered three significant obstacles. Most executives will encounter at least these three as they adapt to the impact of digital disruption on their careers.
Limiting Beliefs
Limiting beliefs are stories that we tell ourselves about what is true. These stories often begin with limiting words. For example,
"I can't learn a whole new area of expertise this late in my career."
"We won't need to change our strategies. They made this company great."
"They won't invest in these new products. They're too risky"
Limiting beliefs protect us from the fear of failure. But they also prevent us from taking the most important first step toward a new career, a new product or service, a new marketing automation platform, a cloud collaboration tool, or a potentially game-changing idea.
My biggest limiting belief was believing that the next step in my career had to be based on my past. Once I overcame that obstacle, my prospects changed.
I began to see my future for what I could make it.
Understanding Technology
For most of the past 25 years, information technology has been just like any other function, like human resources or finance. You could reach the C-level of almost any organization and have very little understanding of technology. That is no longer the case.
This was my second significant obstacle
I had to increase my Tech IQ.
For me, the solution was obtaining a post-graduate degree in digital business from the joint Executive Education Program of MIT and Columbia Business School Executive Education. I needed to immerse myself to create a career where I could help others.
Depending on your industry, you may need to better understand the Internet of Things, blockchain, social media platforms, virtual and augmented reality, big data, or artificial intelligence.
These are the technologies that will drive value creation for the next twenty years. So, no matter who you are, you're going to need to increase your Tech IQ.
Every business is becoming a technology business.
Digital transformation is business transformation.
Leadership Development
We are experiencing a crisis of leadership everywhere. Next year, that will be the focus of the Global Peter Drucker Forum, leadership everywhere.
As the value of the organization no longer resides in the organization's own assets but rather in the network of relationships that the firm has built, executives must become more outward focused. Everyone must be engaged and contributing.
My leadership development journey began in my last corporate role. Beginning with self-awareness, I had to deconstruct every artifice separating me from my authentic self. Then, I had to reconstruct myself believing in the value of my contributions and, more importantly, the value of the contribution of others.
My leadership development journey continues with a greater focus on effectiveness and emotional intelligence.
While efficiency is important, it is no longer prized. So, the value of Six Sigma is declining.
Spanning leadership with the ability to inspire others is of much greater importance.
Recognizing limiting beliefs and establishing liberating truths. Increasing your TechIQ in areas appropriate to your leadership responsibility and improving your overall leadership skills will all help.
Be willing to embrace the transformative change occurring and you will reap huge rewards.
How is your industry being disrupted? What are you doing to transform your organization? What are you doing to transform yourself?
Until next time...
-Lenwood