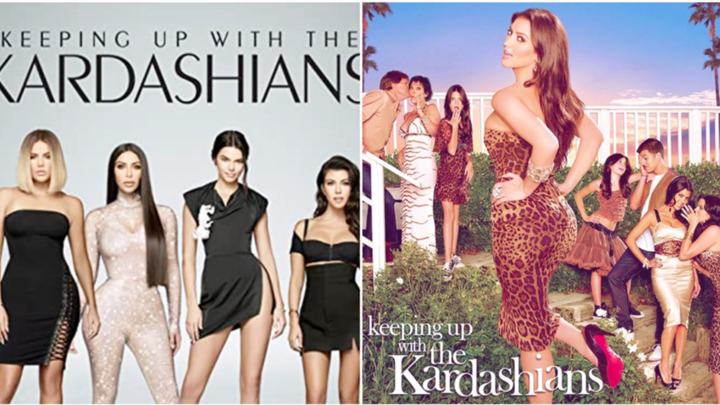 There is a cultural shift underway. If you are in the B2B market, you must understand this shift to increase your marketplace value.
I recently read that 61% of Americans looking for jobs right now want to switch careers. That's remarkable considering that over 40 million Americans lost their jobs since the beginning of the COVID-19 pandemic. 
I hypothesize that two significant factors are driving some considerable measure of that 61%. 
First, many now recognize that analog businesses are more vulnerable than digital companies. If you're in the restaurant, tourist, or hospitality industry, you've seen your industry decimated. At the same time, technology businesses are growing faster than ever. 
Second, COVID-19 has caused many to reflect - big picture reflection. It's natural. Our response to fear is determinative. Are you flight or fight? Do you scapegoat and blame, or are you responsible (i.e., response-able)? 
I hope you've been encouraged to be responsible, doing what you can to be ready when your opportunity arrives. It's coming.
The Digital Shift
Since COVID-19 hit, there has been a massive shift online. In the first three months of 2020, there have been ten years worth of growth in e-commerce transactions.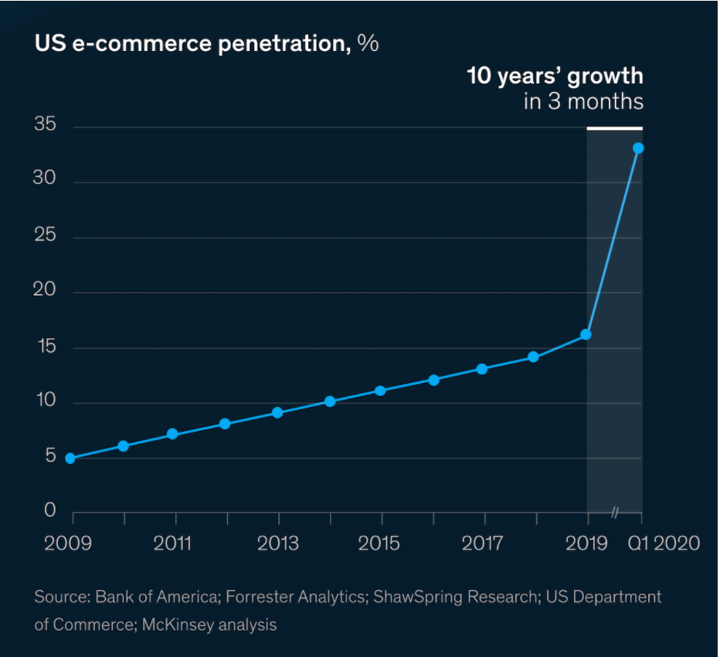 Companies that had been lagging in digital transformation began rapidly adopting technologies. 
We saw usage of remote and online collaboration platforms, such as Teams, Slack, and Zoom explode. Many technologies that have been around for a while experienced massive adoption. 
From Twilio's COVID-19 Digital Engagement Report:
"For the last twenty years, companies have been gradually transforming themselves with digital technologies to adapt to new realities of the Internet and mobile. You'll often hear brands discussing their 'digital transformation' initiative. Digital transformation roadmaps could be anywhere from a year to ten years. Then COVID-19 hit."
From 2,569 companies that Twilio surveyed, 97% reported COVID-19 had sped up digital transformation — and 68% said it sped up by "a great deal."
These digital enabling technologies went from desirable to essential overnight.
The Social Shift
Similarly, we saw a huge increase in social media adoption. COVID-19 made in-person interactions non-existent. Consequently, we are becoming increasingly comfortable with interacting in the virtual world, especially on social media. 
Because of this shift, your online presence or personal brand is more critical than ever. These numbers from Hootsuite and We Are Social are mind-boggling, given the massive numbers of people on social media.
3.96 billion - total number of active social media users
51% - social media penetration (users vs. total population)
+10.5% (376 Million) - annual growth in the total number of social media users
Keeping Up with the Kardashians
I haven't kept up with the Kardashians. I mean that I don't watch the show. But, the Kardashians are an excellent case study in audience monetization. Monetization is how you turn your "followers" or "audience" into money. Let me explain.
Monetization is not about whether we like the Kardashians or approve of how they amassed their audience. What we want to understand is their approach. 
First, the Kardashians took advantage of being in the right place at the right time. They amassed a huge following with their cable television show using their "real" lives as the content. 
Interestingly, they were not the first. The Kardashians followed The Osbournes, which aired four seasons beginning in 2002, and most importantly, The Simple Life aired for five seasons starting in 2003. 
The Simple Life featured Paris Hilton and Nicole Richie and ended in 2006 with the final shows airing in 2007.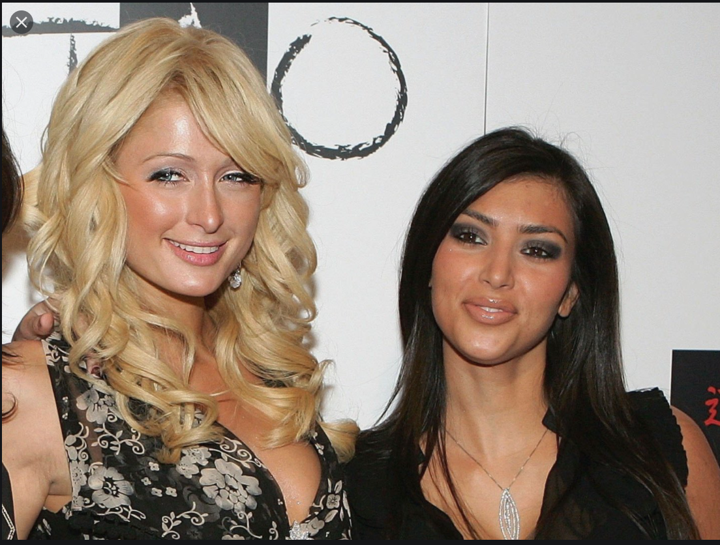 Kim Kardashian worked for Paris Hilton as a personal stylist. She learned how to build an audience, leverage an existing network, and create content people wanted from Paris.  
The Kardashians launched Keeping Up With the Kardashians (KUWK) in 2007 on the E! cable television network. 
The Kardashians monetized their audience through the contract with the cable network. E! sold advertising and paid the Kardashians handsomely for creating the content that attracted the viewers.
As social media evolved, the Kardashians began to connect directly with their audience. The social media platform digitized the network of viewers enabling the Kardashians to connect directly with their audience. The no longer needed E! to reach the audience.
Social media enabled the Kardashians to deepen their relationship with their audience. The audience could now engage with the Kardashians directly, providing feedback on the content being created. The feedback loop enabled the Kardashians to better understand their audience and provide even more targeted content to keep them engaged. 
The Kardashians are big-time influencers with 100s of millions of followers. But, here's the thing. The Kardashians don't sell. They use them. Brands paid them millions to use their products and post on social media.
So, guess what? The Kardashians got wise. They said, "why should we use Spanx or Mac for our audience to go out to buy. Let's create products to use and sell instead." 
KUWK have completed their digital transformation. The television show is ending. The Kardashians no longer need the cable network to keep the audience or monetize. Television, the analog part of their business, isn't required. The Kardashians are now 100% digital. 
The Micro-Influencer Age
We are entering the era of the micro-influencer. Buyers like to buy based on what other people think about a product or service. This has always been the case, which is why referrals have been so powerful historically.
You are a micro-influencer. A micro-influencer is simply a person who uses their personal brand to influence their audience.
In the analog world, micro-influencing looks like a traditional business referral. 
In the digital B2C market, micro-influencing looks like a book review (i.e., Amazon), vacation review (i.e., TripAdvisor), or restaurant review (i.e., Yelp). 
Now, micro-influencing is becoming a more significant part of the B2B market. Micro-influencing was increasing in importance before COVID-19. But since COVID19, it's accelerating as the traditional mechanisms (i.e., email marketing campaigns, paid advertising, conferences, dinners) for generating sales continue to fail.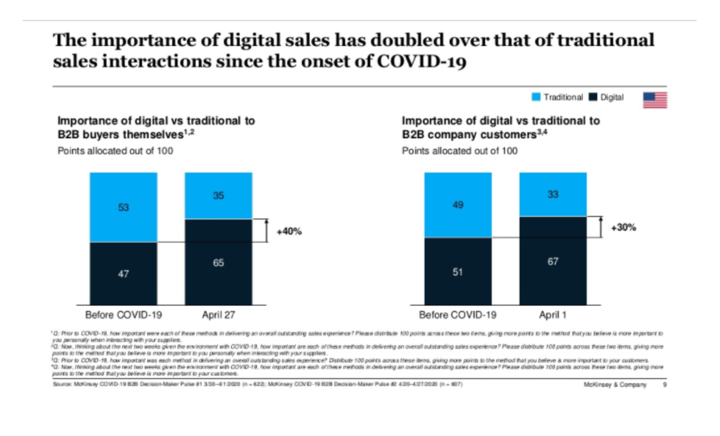 As micro-influencing grows in its importance, your value to your employer is no longer based solely on the work that you do for them. 
A measure of your value is in your network and your ability to reach your employer or prospective employer's target audience. 
You don't need to have millions of followers like the Kardashians. But, you better believe that your online presence and your network have value. 
It's all about your network (i.e., your audience). Your network is your customer. The value of that network is derived from three things:
Learning how to build your brand and your network is critical in the era of the micro-influencer. 
LinkedIn has just announced there are now 706 million people on the platform.
What are you doing to turn your network into an engaged following that you can monetize? 
My colleague Tim Hughes recently wrote in his article How We Experienced 10 Years' Worth of Digital Growth in Just Three Months: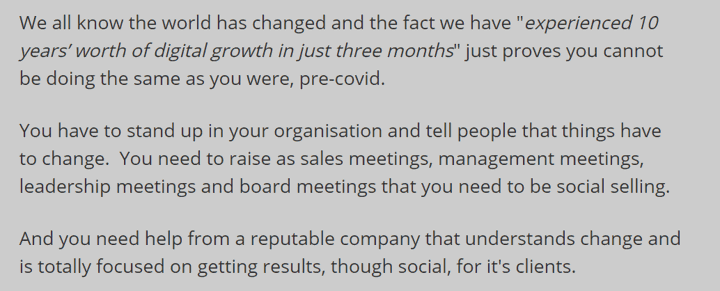 You can reach me here for more details about how we at Accelery and DLA Ignite can help you.