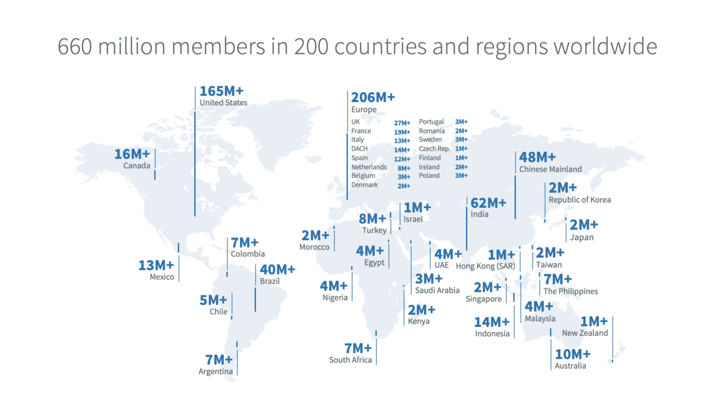 I had to make a significant shift in my business strategy with Covid-19. 
Before COVID, I planned to go-to-market, focusing on building a digital culture. While that made a lot of sense to me based on my market research, I'm not sure it would have worked out. In retrospect, I think the strategy was dubious from the start. 
When discovering new markets or resegmenting existing ones, the best way to find customers is to interview prospects.
By developing a deep understanding of customer problems, we're able to build solutions and copyrighting to narrowly tailor our messaging to the issues that our prospective customers are most urgently seeking to solve. 
We succeed by creating a solution that relieves that pain faster or less expensively than competitive solutions. If the answer is significantly better, we can even charge a premium for the product or service.
It feels like it's taken me years just to understand these basic concepts.
The best opportunities exist where there is a sense of urgency. Without that sense of urgency, it can be difficult for product launches to succeed.  
A problem with the appropriate sense of urgency is often called a "bleeding neck" problem. Why a "bleeding neck" problem? As the name suggests, a bleeding neck problem is a critical, potentially fatal problem.
The customer must get a remedy or die. Pretty straightforward.
For a long time, I didn't get it.
I don't like to change any more than the next person. With businesses struggling to survive, building digital culture just wasn't urgent enough. So, it was clear that I needed to pivot.
How did I make the transition so quickly?
I was able to change, in part, because I had developed a personal brand on LinkedIn.
I focus on LinkedIn now more than ever. But, that's because I've partnered with DLAIgnite, the global leader in business transformation through social, to help businesses use social to acquire customers, recruit talent, and elevate customer experience. 
An opportunity that developed entirely through social engagement.
Here are three quick tips that I relied upon to make my pivot, and you can too.
Build your brand on LinkedIn. Whether you are looking for a job or you're building a business, you need to have a brand on LinkedIn. This was true pre-COVID. But now, even more, professionals are relying on LinkedIn to get business done. It is growing in both total members and engagement. As of the end of April, after only two months of the coronavirus, LinkedIn had seen an increase of 15 million users since January. More importantly, LinkedIn's engagement was at record levels. I expect to hear from Microsoft at the end of July or August that engagement on LinkedIn continues to accelerate.
Use your profile to differentiate yourself. 
LinkedIn has well over:
1,000,000 "thought leaders", 
2,000,000 "growth consultants", and
6,000,0000 "experts".
While it might seem like using these words in your profile are differentiators, the reality is quite different.
If you're going to stand out on LinkedIn, your profile's going to need to change. 
When we've invested lots of time and effort into our careers and accomplishments, it can be challenging to minimize those things. If anything, we're inclined to emphasize our credentials.
We can even sometimes hide behind our accomplishments. There are a variety of reasons that we do it. For some people, it might be a fear of rejection. For others, it could be insecurity.
I know I used to hide behind my education and positions for both reasons.
But, here's the thing. Your job title tells very little about who you are as a person.
Look at this chart from LinkedIn's statistics. With so many C-level execs and MBAs, these credentials are important. But they are not differentiators on a platform with millions of people.
You simply don't stand out from among all the other people with these same credentials. The best way to differentiate is to use the profile to share your personality.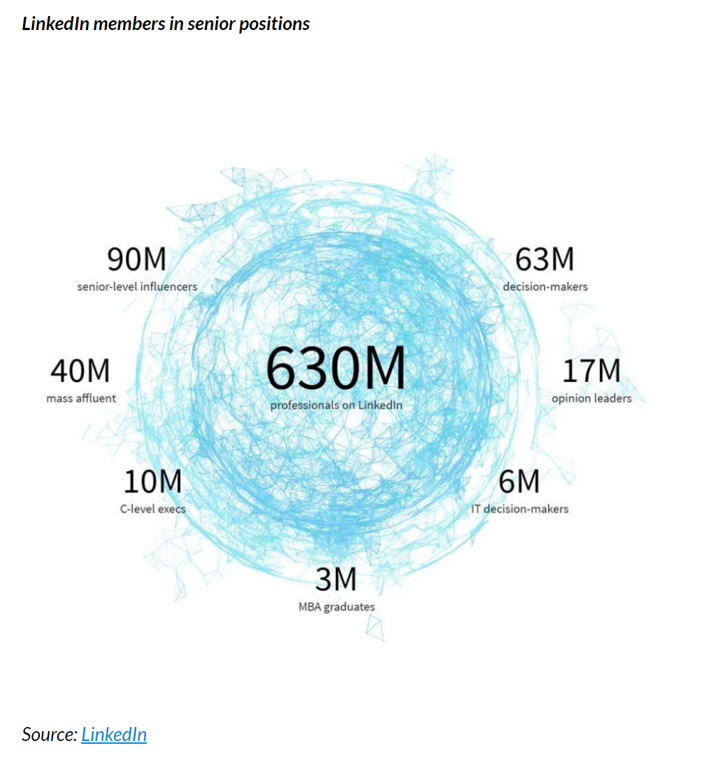 Build an audience. 
On LinkedIn, your audience is your 2nd and 3rd level connections.
If you have a small network, then you will have a small audience. 
If you have an extensive network, then you will have a broader audience. But, it won't help you to have a network filled with random connections.
You will want to build a targeted audience of people that you hope to influence or engage with today or in the future. If you're interested in working with accountants, for example, you can try to connect with accountants directly. But that may not work, if accountants are unwilling to connect with you. In that case, you will have to strategically build a network of people who are connected with accountants.
While LinkedIn is the largest database of professionals on the planet, people often use it as a phone book for cold calling. A very transactional approach and the least effective use of LinkedIn. 
We're going to see many permanent changes as a result of Covid-19. Anecdotally, I have heard it said that the pandemic has accelerated technology adoption and digital transformation at least five years. That very well may be correct.  
If there's any trend that I'm confident about, it's the use of social media.
Like cloud and mobility, social media has now fundamentally changed the way we engage with one another. 
For B2B sales, there is no better method for creating opportunities to engage with your target audience. 
If you're looking for a job, there's no better way to be spotted by the employer of your dreams. 
The key, though, is authentically revealing the "person" in the personal brand.